About Tropical Web Works
Recent launch: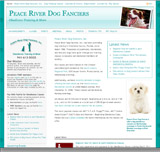 Peace River Dog Fanciers
Dog obedience training in Punta Gorda and Port Charlotte.
From our portfolio: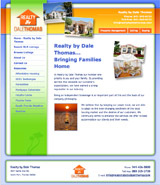 North Port, Florida, Real Estate
-
Realty by Dale Thomas
Tropical Web Works is a Punta Gorda-based Website development firm headed by Sonja Ray, with graphic designers, Flash artists, coders and programmers on call as needed. We're local to Charlotte County, Florida, and our strength is working with other local companies in Punta Gorda, Port Charlotte, Fort Myers, Naples, Englewood, North Port, and other southwest Florida communities.
At Tropical Web Works, the client comes first. The direction we'll take with your site will be determined by what you want to accomplish with it. Before we ever start talking about image rollovers, Flash animations, databases or interactive forms or other scripting, first we listen — we listen to you as you tell us why you want a Web site, what kind of experience you want your visitors to have, and what you want the site to accomplish.
Then we'll combine visual design, usability, technology, and good old-fashioned marketing know-how to create Web sites that will be easy to use, rank high with search engines, be visually compelling, and meet your objectives.
We ask about existing marketing materials and campaigns. We ask about corporate identity and branding. We ask about your customers or clients and their needs and expectations. We ask about everything that could affect what kind of Web site you'll need. Only then do we start talking about content, structure, visual design, and the types of technology that might be employed to meet your objectives while staying within your budget.
Contact Tropical Web Works today for your free initial consultation.