From our portfolio: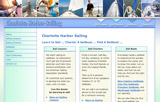 Charlotte Harbor Sailing
Offering sailing lessons, yacht charters, yacht delivery services, and new and used boats
Databases and your Web site
You can add tremendous dynamic functionality to your Web site through the use of databases. Product lists, membership systems, customer login areas -- all are easily done with database programming. Below are some examples of what Tropical Web Works can help you do.
Display a random quote (or anything else) from a database every time a visitor loads a page
Reload this page to see a different random quotation in the box below.
Or let your visitors view your entire database.

The Founding Fathers knew a government can't control the economy without controlling people. And they knew when a government sets out to do that, it must use force and coercion to achieve its purpose. So we have come to a time for choosing.
Attributed to: Ronald Reagan, Address to the nation, October 27, 1964
Submitted by: Sonja Ray on August 21, 2012
---
Let visitors search for a specific item in your database
---
Let visitors add something to your database
Contact Tropical Web Works today for your free initial consultation.