From our portfolio: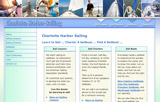 Charlotte Harbor Sailing
Offering sailing lessons, yacht charters, yacht delivery services, and new and used boats
Databases and your Web site
You can add tremendous dynamic functionality to your Web site through the use of databases. Product lists, membership systems, customer login areas -- all are easily done with database programming. Below are some examples of what Tropical Web Works can help you do.
Display a random quote (or anything else) from a database every time a visitor loads a page
Reload this page to see a different random quotation in the box below.
Or let your visitors view your entire database.

"Did you really think we want those laws observed?" said Dr. Ferris. "We want them to be broken. You'd better get it straight that it's not a bunch of boy scouts you're up against... We're after power and we mean it... There's no way to rule innocent men. The only power any government has is the power to crack down on criminals. Well, when there aren't enough criminals one makes them. One declares so many things to be a crime that it becomes impossible for men to live without breaking laws. Who wants a nation of law-abiding citizens? What's there in that for anyone? But just pass the kind of laws that can neither be observed nor enforced or objectively interpreted " and you create a nation of law-breakers " and then you cash in on guilt. Now that's the system, Mr. Reardon, that's the game, and once you understand it, you'll be much easier to deal with."
Attributed to: Ayn Rand, Atlas Shrugged, 1957
Submitted by: Sonja Ray on August 21, 2012
---
Let visitors search for a specific item in your database
---
Let visitors add something to your database
Contact Tropical Web Works today for your free initial consultation.