Web Site Design and Development Experience
2006 marks 10 years of web site experience
From our portfolio: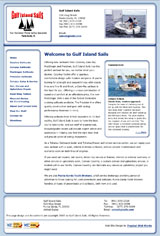 Gulf Island Sails
Sonja Ray spent seven years as the Corporate Web Site Manager for the Shrine of North America and Shriners Hospitals for Children, managing a web site that grew from 35 pages at its launch in 1996 to several thousand pages over the next few years.
As the sole Web site staff member, Sonja had full responsibility for web site design, web site content, HTML coding, scripting, web site navigational structure and all other aspects of the Web site. She was instrumental in the launch of the Shrine and Shriners Hospitals Web site at its inception in 1996 and was named the organization's first full-time Web Site Operations Manager in 1998.
Sonja left the Shrine in 2003, moving to Punta Gorda to begin working with a Fort Myers Web site development firm. Through that affiliation, she worked on the development of numerous Web sites for numerous companies and organizations, including Law Elder Law, Bonita Springs Utilities, and the Naples Shelter for Abused Women and Children. In 2004, Sonja began offering her services independently to local companies in the Charlotte County area.
Since 2004, Sonja has designed and built websites for a variety of businesses, including Realtors®, attorneys, and boat dealerships, for local clients in Punta Gorda as well as businesses as far away as Missouri and California.
From our portfolio: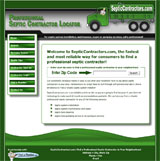 Professional Septic Contractor Locator
Allows visitors to search for professional septic contractors within 50 miles of their zip code.
Prior to the launch of the Shrine/Shriners Hospitals Web site in 1996, Sonja worked as Projects Manager in the Shrine's Public Relations Department. A degree in Mass Communications, coupled with her public relations experience, gave her a solid grounding in corporate communications and marketing. This background has been invaluable in transferring the broad-brush principles of mass communication to the specific medium that is the World Wide Web.
After branching out to begin working with affiliate marketing and other ways of monetizing websites through contextual advertising programs such as Google's AdSense, she combined several aspects of her experience to launch sites such as Tropical Boating and Masonic Memorabilia.
Contact Tropical Web Works today for your free initial consultation.