From our portfolio: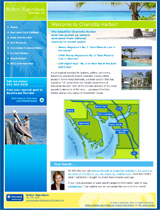 Robyn Sigurdson, Punta Gorda Real Estate
This custom Realtor website displays all Punta Gorda and Port Charlotte real estate listings. Visitors can browse through property listings or search for homes, lots or condos.
Commercial Hosting:
Tropical Web Works offers information on commercial
web hosting
through our sister site, Tropical Web Works.net.
Web Site Hosting
Tropical Web Works provides industry-standard Unix-based hosting exclusively to our Web site development clients. We set up your Web space on the server, configure your e-mail accounts, and manage all other technical issues so that you can focus on running your business. Your hosting will include whatever your Web site needs to function: disk space, bandwidth, e-mail accounts, extra Apache or PEAR modules, php, MySQL, file upload permissions — you don't have to worry about a thing, because we'll take care of it.
When we host your Web site, we will install any server modules or applications needed and optimize your site for fast and efficient operation on our server. You will receive a level of personal service and attention to detail that is simply not available on shared hosting accounts through large commercial hosts: this service is available exclusively to clients of Tropical Web Works.
Daily backups of your site
You will have peace of mind that comes from knowing current backups of your site are available if needed. You will have peace of mind that your site will not be shut down for exceeding your bandwidth or your disk space quota — we'll let you know well in advance if your site is growing so much or seeing so much traffic that you need to upgrade your hosting plan. And you have peace of mind in knowing that your site's hosting is in good hands with a host who has an interest in seeing it succeed!
Should you prefer to host your site elsewhere, we'll work with you to get your site up and running with the host of your choice. But we hope you'll choose to host with Tropical Web Works, and we'll work hard to earn your trust every month.
Contact Tropical Web Works today for your free initial consultation.