Our Website Design Services
From our portfolio: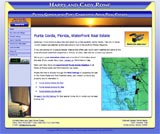 Punta Gorda Real Estate
from Harry and Cady Rowe — Site includes IDX feed from the local MLS board, with a nightly update of active Port Charlotte and Punta Gorda real estate listings and photos.
From our portfolio: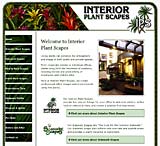 Interior Plant Scapes
Showcases the beautiful plant scaping work performed throughout southwest Florida by Interior Plant Scapes in Fort Myers.
We believe that your Web site should reflect your company's personality and culture — it should tell visitors what they need to know about who you are, what you do and how you do it. We will sit down with you and discuss what you expect from your site and what you hope to accomplish with it. We'll talk about what kind of content you'll need to include, the overall structure of your site, and the "look and feel" that will reflect your company. Then we'll develop your site, with continuing feedback from you, to meet the goals outlined earlier.
Your site will be custom-designed to achieve your goals and objectives — no mass-produced templates or cookie-cutter sites will ever escape our keyboard! We'll use your existing materials or work with you on the development of new content for your site.
A small, basic website, or large complex one?
Whether you need a quick 5-page website to give visitors a brief overview of your company and how to reach you, or a larger, more complex site with databases, e-commerce, and online sales — we'll work with you to reach your goals. We won't be satisfied until you're satisfied!
If you wish, we'll provide a complete turn-key package to get your site up and running with a minimum of fuss and bother. We have talented and experienced graphic designers and programmers on call to address any need that might arise. Our services include:
Domain Registration (www.yourdomain.com)
Website Design and Development
E-Commerce
Database Programming
Search Engine Optimization
Interactive Flash and Scripting
Website Hosting
Ongoing Maintenance
Contact Tropical Web Works today for your free initial consultation.